Elevate your decorating and organization game—literally—with the help of floating shelves. They're endlessly versatile pieces, and we love how they instantly upgrade vertical spaces. Even better? There's no wrong way to accessorize them. Whether your taste leans eclectic, earthy, glam or anything in between, it's easy to add your own twist. Looking for inspo on how to get started? We got you: read on to discover seven unexpected floating shelf ideas for every room.
Why keep dishes in the cabinet when they look just as good on display? If you aren't sure which pieces to leave out, think about what you use most often—and what will make the biggest aesthetic impact. For coffee snobs, try pairing your French press with a chic canister for your beans. Then, consider using hooks to hang an eclectic collection of mugs beneath. Another idea: a barware setup. Let decanters and carafes mingle with bar tools, highballs and double old-fashioned glasses to make serving more convenient at your next soiree. Hosting dinner parties more your thing? Keep your favorite serving bowls in sight. Stack them neatly for a simple look, or lean one against the wall to make a statement. Either way, it's easy to grab what you need when friends arrive.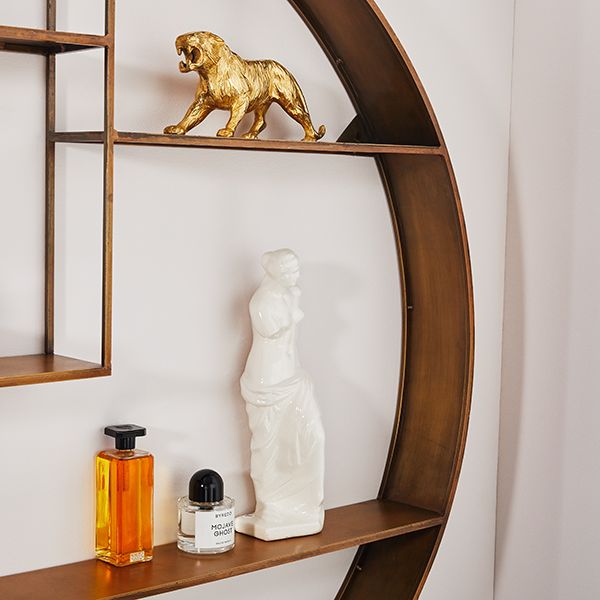 Cluttered vanities are a thing of the past when you store your beauty stash on a floating shelf or two. Try flanking a statement-making wall mirror with a few shelves to deliver the chic-to-death aesthetic you see on IG. We love juxtaposing white marble and acacia for spa vibes with a luxe twist. If your always-expanding collection of skincare products is taking over the vanity, it might be time to organize your toiletries. Glass jars can hold makeup brushes, cotton swabs or bath salts, or go with opaque canisters if you'd rather conceal the contents. Not just for organizing, floating shelves give you an opportunity to display decor and home fragrance in the bathroom, too. Whether you're into candles, botanicals or reed diffusers, try aromatherapy for a tranquil atmosphere as you unwind in the tub.
If you're short on floor space in the bedroom, think about getting creative with the furniture: you could swap traditional nightstands for floating shelves beside the headboard. Since they leave no footprint, that means you'll have room beneath for baskets to store any odds and ends. Or, leave the floor empty to convey a minimalist aesthetic, and stow things away inside a wall-mounted cabinet: go with whatever feels right. Wondering how to decorate the floating shelves? To maximize surface area and deliver upscale hotel vibes, you could install sconces above instead of illuminating the room with table lamps. Remember to accessorize, too: whether you want to keep things simple with a bud vase, book and bedside clock or add a playful touch with a statuette, have fun curating your personal touches.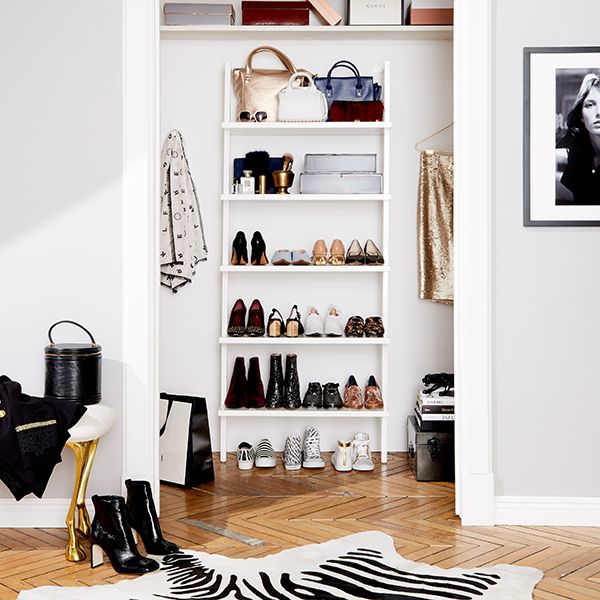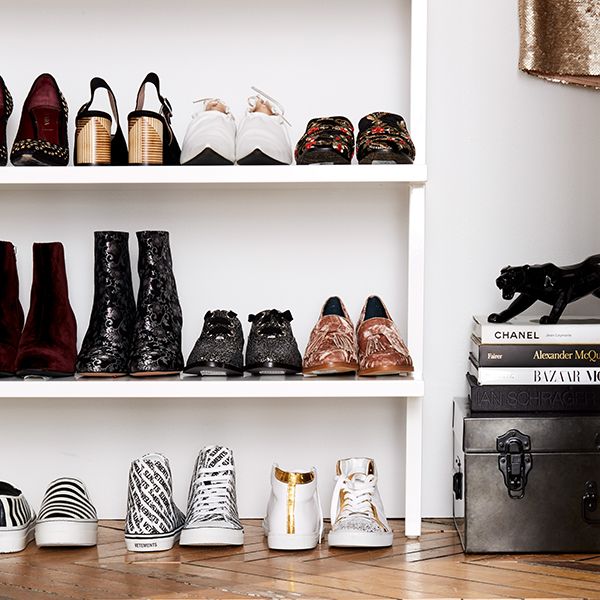 Transform your closet from not-so-organized chaos to Instagram-worthy in no time with some help from floating shelves and other wall-mounted storage and shelving units. Want to give your space a boutique feel? Try folding and stacking sweaters on open shelves—keeping them in plain sight means the frantic search for your favorite outfit is a thing of the past. If the closet floor has been taken over by accessories, clear the area by organizing your shoes, bags and belts on vertical spaces, too. Don't have a walk-in closet? You could set up the shelves near a clothing rack in your room to maximize space while creating an enviable aesthetic for the fashion-obsessed.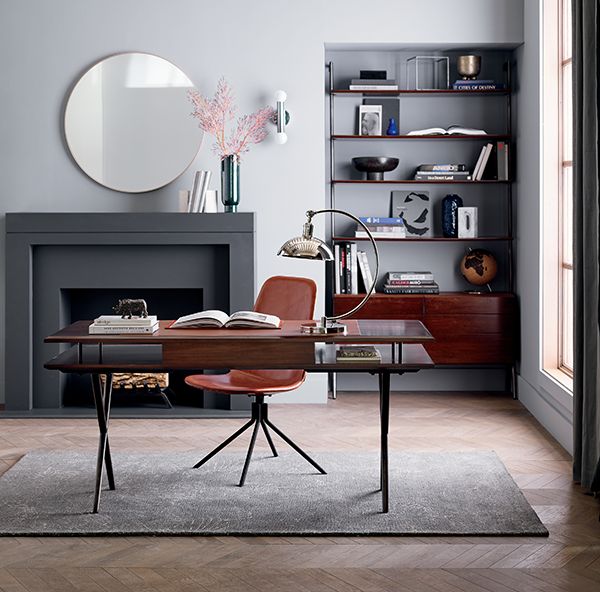 If desk clutter is creating a major distraction on your WFH day, tame it by making use of shelf space. If you're wondering what you should keep on the desk and what can go somewhere else, think about how often you use the item. Always reaching for a pen? Try keeping a pencil cup near your workstation. For lesser-used items—think paper clips, scissors and reference materials—stash them on a conveniently located floating shelf. Another take: let the office supplies stay on the desk's surface, and move your pictures and plants to the wall. That way, you can personalize your area without sacrificing prime real estate. Bonus points if you use a ladder desk to amplify the aesthetic of the floating shelf.
LIVING ROOM
Are the walls in your living room in need of some TLC? Use floating shelves to bring some personality to vertical spaces. For the bibliophile, set up a home library with a modern twist by elevating your collection of novels. Try staggering a few shelves up the wall for an eclectic edge, or, if you prefer a neat aesthetic, keep them lined up. Same goes for the books: stack a few on each shelf with decor for an effortless vibe, or go classic with upright rows of books and bookends. Whether you organize your library alphabetically, by "read" vs. to-read or even by color, there's no wrong way to put it all together. More of an art person? Consider showcasing your gallery on shelves instead of hanging frames. Picture ledges with lips are perfect for leaning a few photographs or prints against the wall. Then, arrange your pieces however they suit your style: let the frames overlap a little for an ultra modern look, or space them out evenly for a tidy aesthetic—do you. Green thumbs can even create a vertical garden with planters on the wall. Bonus: elevating them means the cat (probably) won't knock them over.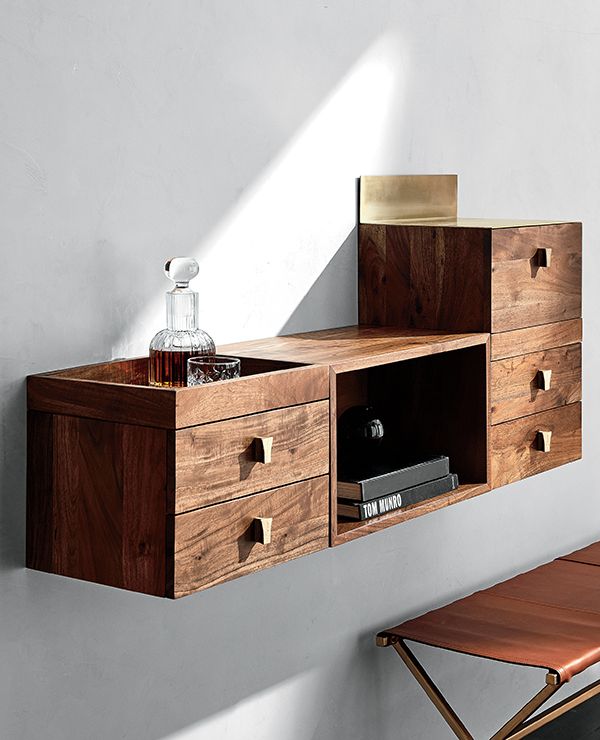 Always scrambling to find your keys as you're heading out the door? We feel that. To make your morning routine a little easier, mount a small floating shelf in the entryway. Then, stash your stuff in a catchall dish on its surface. Floating shelves are also time-savers for pet parents: whether you keep your dog's leash on the shelf or prefer hanging it from a hook underneath, you won't have to keep them waiting for their walk. For tight areas and tiny apartments, consider an acrylic shelf that doesn't take up any visual space.
Now that you have a few floating shelf ideas to get you inspired, we'd love to see how you put your spin on them. Show us how you set up by tagging @daisycornerwallart on Facebook.